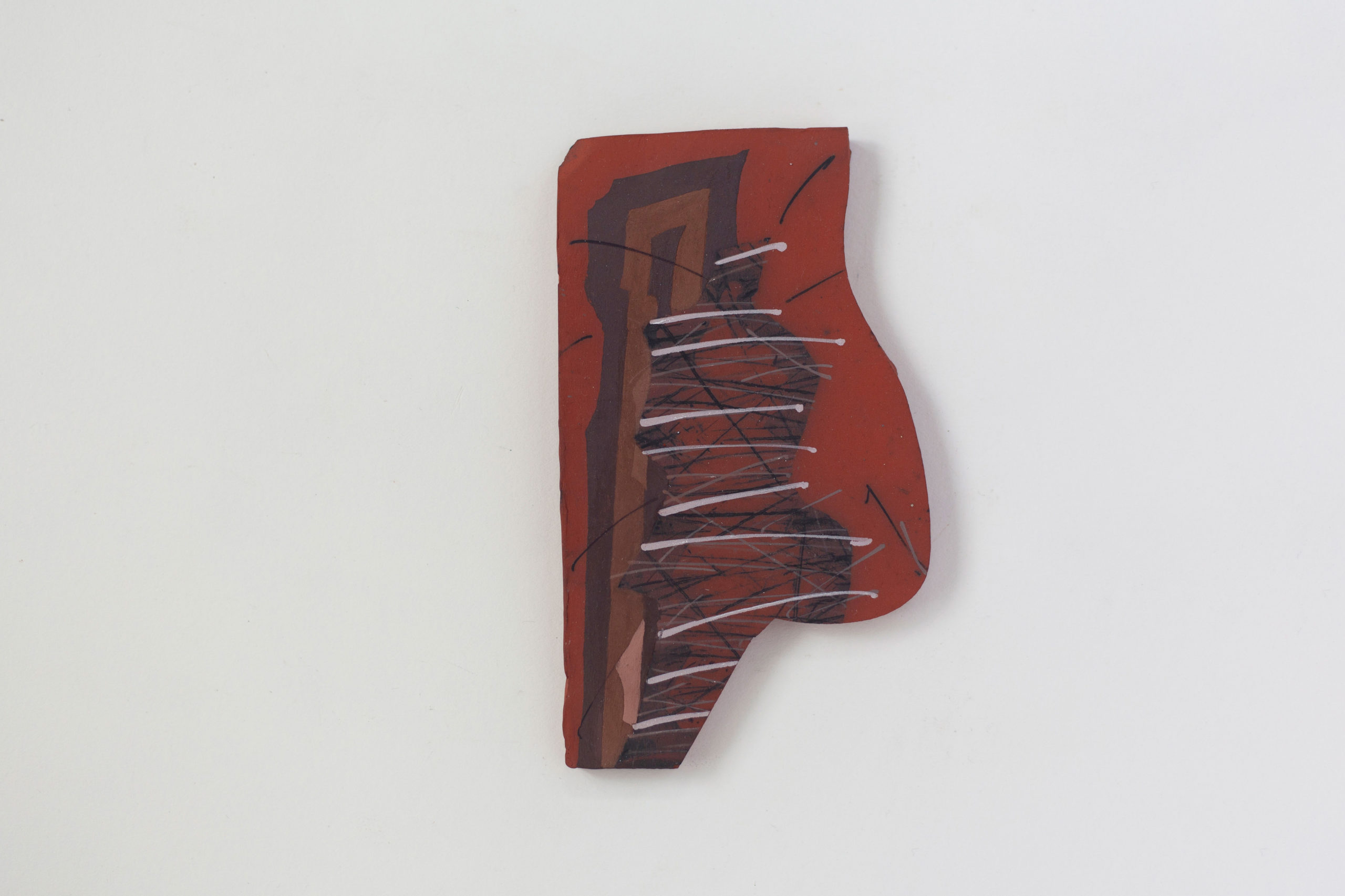 ,
, .
Inoperative words 
An exchange between Tom Melick and Elisa Taber
It wasn't so long ago that entomologists discovered that some insects use plants like telephones, sending chemical signals to each other above and below the ground, and often in different dialects. The same might be said of artworks: they are transmission devices where a certain kind of signalling and intermingling happen, or doesn't happen.
These exchanges take place between two people in two cities, Sydney and Montreal, and through the works of an exhibition, Ceramic Papers, by Mary MacDougall. They take place at a certain time, between the difference in times, when one of us is awake and the other asleep, or can't sleep. Eloquence and mastery don't interest us. Much like Mary's art, our gamble is that there's more to be found in what remains illegible and fragmented, a language vibrating between text and image.
Language communicates something other than itself, than its content: its form. We stand outside its door (on opposite sides), I knock, it cannot open, I hear you knock back. Three times during this exhibition we'll exchange scripts that speak to each other, to the images that in turn speak for themselves, and to you, our imagined reader.
Elisa Taber writes and translates herself into an absent presence. An Archipelago in a Landlocked Country is her first book. Tom Melick makes books and pamphlets at Stolon Press, and edits Slug with Elisa.
Biography
Mary MacDougall (b. 1983, Australia) lives and works on Gadigal land in Sydney. The foundation of her practice is experimental mark-making which she employs across a variety of materials including glass, board, paper and ceramics. She is interested in colour theory, collage, asemic writing, image archives and forms in transition.
Recent exhibitions include DRAWING, Sydenham International, Sydney (2022); Joan Jonas and Mary MacDougall, Dialogues: Wind, 1968 and R.B Archipelago, 2017, ReadingRoom, Melbourne (2021); Roman Glass Episode, Knulp, Sydney (2019) and R.B. Waves, ReadingRoom, Melbourne (2018).
Mary has released two records, one as part of Warm Currency via the London label Horn of Plenty (2022) and another as The Bowles on Graham Lambkin's Kye label in New York (2012). She has produced three artists' books with Nicolas Weltyk of Cooperative Editions and has contributed to numerous publications. She has exhibited widely in artist-run spaces in Sydney, Melbourne and San Francisco.
Colophon
Mary would like to thank  Rory, Wendy, Elisa, T.Melick, Hana, Ivan, Tom, Matthew, Petra, Victor, Olivia, Ed and Sofia