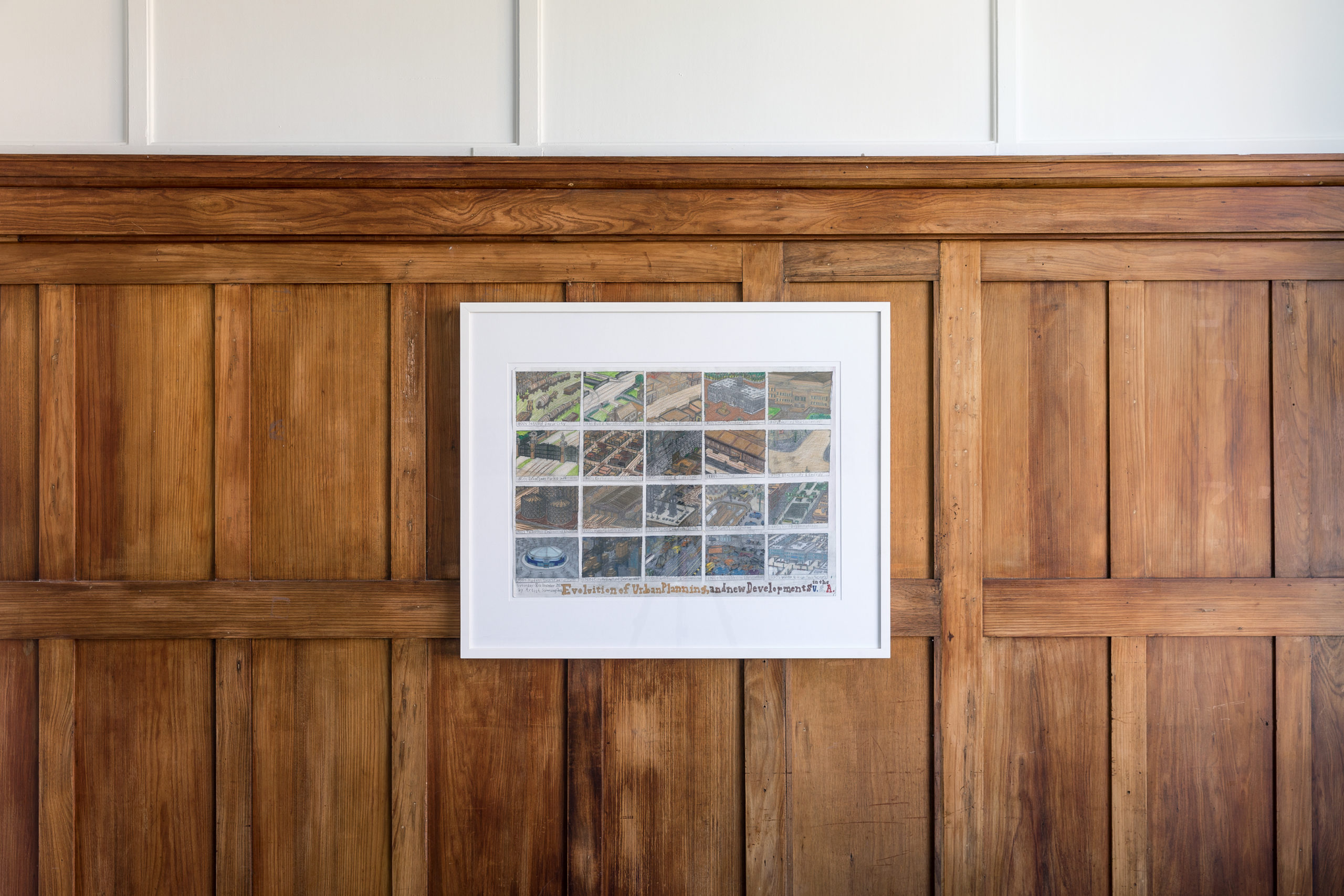 ,
, .
Before this there's a blank page. Before this there's a packet of burger rings and a restless night spent awake. Before this there's a long car ride with mum to an assisted arts studio. Before this there's an interview. Before this there's paper torn and grey leads sharpened. There's eyeballs examined. There's spectacles stuck back together. Before this, what's been saved on the old laptop? Before this there's half the morning spent under a blanket before the heating takes the chill.
'ITS TOO COLD, JUST LET ME REST FOR A BIT'.
'I'LL DO SOME WORK LATER, JUST LET ME REST FOR A BIT!'
'LET ME THINK…'.
After this a ruled line starts to appear all the way around the edge of the paper. After this, a park bench starts to appear faintly at first, as a hand moves back and forth to find its position, perfectly angled and receding towards the distance. The pencil presses harder and the outlines darken. Then a long line of trucks park along the horizon under neon signs that fill half the sky. A man stands at a large public BBQ flipping burgers. Truck drivers crowd together around the table. They have sauce, they have mustard. Finally, 'Every Truckers Enjoy Having Barbecue to Eat for Picnic. Where they sit outside near the Truck Stop During Recreation'.
—Rob McHaffie
Biography
Samraing Chea (b. 1995, Melbourne, Australia) is an emerging artist who works predominantly with coloured and graphite pencils. With inspirations stemming from commerce, politics, urban landscapes and social environments, Chea's work contains both humorous and startling social commentary.
Alluding to both historical and present-day references, Chea's art practice demonstrates an uncanny ability to extract the irony and idiosyncrasies of his subject matter.
Samraing Chea is represented by Arts Project Australia and has been a regular studio artist since 2011. This is Chea's first solo exhibition.
Colophon
Universal Drawings by Samraing Chea was proposed by Rob McHaffie and Matlok Griffiths.
With thanks to Sim Luttin and to the Arts Project Australia team for their collegiality and collaboration, and to Sandy Fernee, Matlok Griffiths and Katrina Webster, Travis MacDonald, Rob McHaffie, Nicholas Megchelse, Grant Nimmo, and Sue Roff for lending works from their private collections.